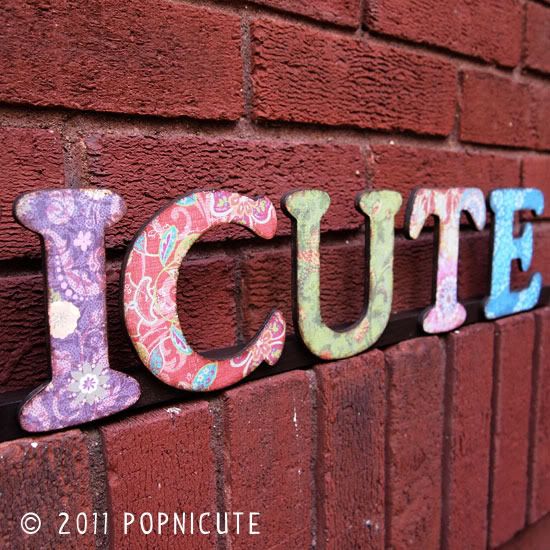 This decorative wooden shop sign is cheaper to make than printed banner and has a lot of visual appeal. This wooden shop sign would be big enough to be put at the back or in front of your tent at craft shows / art fairs and you can have it in any color you want! I used scrapbook papers to decorate my wooden letters. Why scrapbook papers? First, they're available in unlimited designs. Second, it's easier to do and much quicker than handpainting designs on the letters. Besides scrapbook papers, you can also decorate it with wrapping papers, old newspapers, glitters, bows, basically just go where your imagination takes you. What's great about this wooden shop sign is that you can even make seasonal ones without breaking the bank! It's so easy to personalize and so easy to embellish.
I put my first shop sign inside a consignment shop,
The Hope Chest
, that displays some of
Popnicute
handmade jewelry in it. The sign I made was meant to be standing on top of a shelf. It can easily be converted as a hanging display sign. I included the alternative steps at the bottom of this tutorial. I will make another to go with me in craft/art fairs and maybe some smaller ones for the table decoration. This wooden sign is fairly simple to make. All the materials I used were ready to assemble.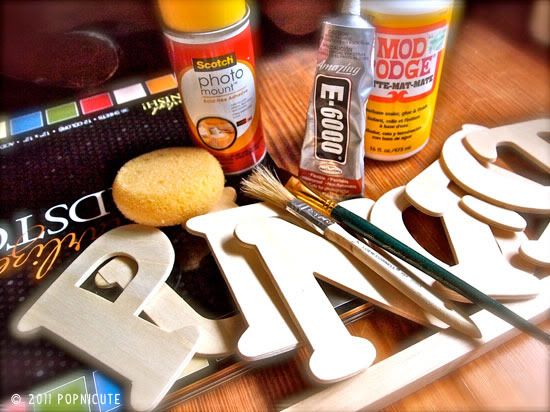 List of materials:
Wooden letters = $0.99 for a pack of 2 (Hobby Lobby)
5/8 inch (16mm)
Square
wooden dowel = $2.49 (Hobby Lobby)
Scrapbook papers
Total cost for my sign: ± US $7.00
(I already had all of the tools so I didn't count them)
List of tools:
Glue of your choice (I used Mod Podge but Scotch Photo Mount Spray adhesive would be a better choice!)
Paint brush
Craft knife (x-acto knife)
Cutting mat
E6000
Optional:
Acrylic paint
Sandpaper
Clear spray paint
Sponge
How To:
1. Select the colors/pattern you want to use for the letters. Lay down the colors beforehand side by side in order how you want it to be. This is good to see if the colors go together well and to avoid mistake and/or color mismatch.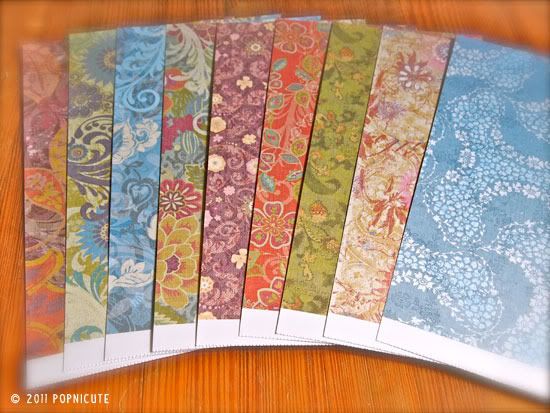 2. Spray/paint the glue on the wood evenly on the right side. Quickly attach the scrapbook paper to it. Press evenly to make sure no air bubbles trapped in the middle. Do it for every letter and wait until the glue dry.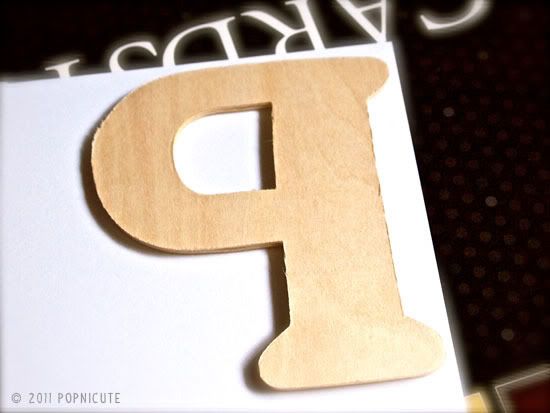 3. Take your x-acto knife, put the paper coated side facing down on your cutting mat and cut the paper around the letter neatly flush to the edge of the letters.
4. Brush about 2-3 coats of Mod Podge on top of the paper to strengthen and protect the paper coating.
5. If you want to go further, use a sandpaper, about 400 grit, to file the edges smooth. These letters came unfinished so the edges are kind of rough.
6. Take the wooden dowel, arrange the letters on it. Make sure you get the correct side that would lay flush on the floor. My dowel was a bit curvy at one side. It's important to do this so you get a nice alignment.
7. After you get the arrangement you like, take E6000 and glue the letters on the dowel. Make sure the bottom of the letter is flush to the wooden dowel bottom. Use books or anything that's in similar thickness to your wooden dowel to help your letters stay paralel to the floor. Wait until the glue is completely dry before you move the sign. Might as well leave it overnight.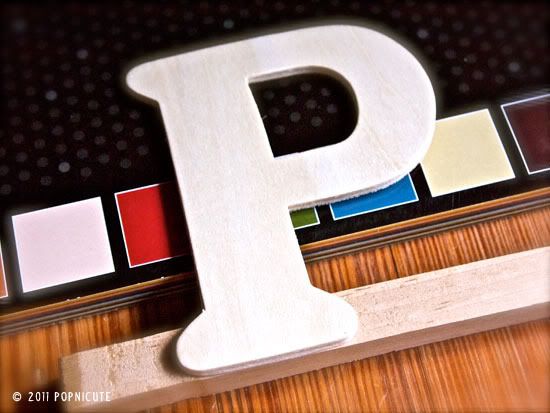 just imagine this letter had scrapbook paper coating already.
Optional Steps:
8. When you're sure the glue is completely dry, you can choose to paint the sides, back, and the wooden dowel with acrylic paint using a paint brush. Dab very small amount of paint with a sponge to create the distress look on the edge of these letters. Leave the paint dry.
9. If your sign is supposed to be weatherproof, I'd use the spray paint for protect the finished wooden sign even further.
Your sign is finished! Congratulation!
My finished sign on display.
ALTERNATIVES:
1. This standing wooden shop sign can be made as hanging sign. Just glue the wooden dowel on TOP instead of the bottom and tie with cord or ribbon at the ends.
2. Another alternative is to glue the letters on a wide wooden board. Drill both of the top corner sides to tie a cord/ribbon for hanging.