About the MarketHub
The MarketHub is a free tool for all members on ArtFire (Basic and Pro) allowing them to share their presence on other sites with the ArtFire community. The MarketHub appears on all of a seller's active listings and provides links to other site profiles the user maintains.
The Market Hub generally appears like this on listings:

On your MarketHub, you can add in your website, blog and/or Blogger blog, Etsy Store, Flickr account, Facebook page, Twitter, YouTube profile, Indie Public account, and your Myspace page.
Notice that some of the boxes in the example above are faded. This means the user has not entered any links for those sites.  If you haven't added any links for your MarketHub, all of these boxes will appear to be faded.
Setting up Your Market Hub
To get started with your MarketHub, first log into your ArtFire account and navigate to your
MyArtFire
.  On the left navigational bar, under the "My Tools" heading, select the
MarketHub
text.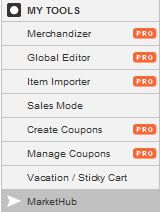 On the MarketHub page, you can enter in the different links to display your presence online. This page will also display the traffic you're receiving from these links on the right. If you do not currently have your MarketHub set up or haven't received any clicks to your links, this area will be blank.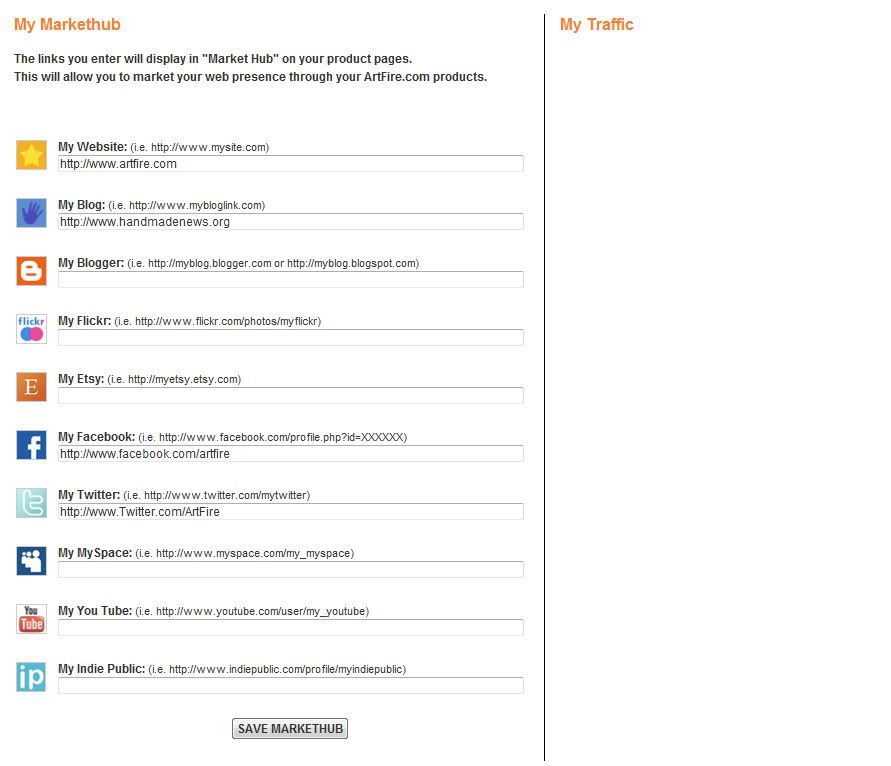 If you have a website, enter it in the website box, if you have a blog, enter in the blog box, and so forth. Remember, you don't need to fill every one of these boxes out, you can just enter in the profiles you have. All unfilled boxes will be faded and unclickable on your MarketHub. We have also provided sample URL's for each website so you know what to look for when you are locating your URL's on the other websites.
Note to Flickr users:  In order to enter your Flickr link, you'll have to set up your 'friendly" Flickr URL. Click
here
to do so. We do not provide customer support for Flickr, so if you have trouble setting up your URL, please refer to Flickr's
FAQ
.
Once you've enter in all your information, click the "Save MarketHub" button at the bottom. Now you can check out one of your listings to see how the MarketHub appears to your buyers!
Need help building a presence online? Check out our
Twitter 101
,
Facebook 101
and
SMO Blogging
guides.
PenelopeRose
POSTS: 274
Posted On:
Thanks I forgot the / at the end of my name and that is probably why the web page was not recognized. I am going to go try it again.
PenelopeRose
POSTS: 274
Posted On:
Yes, it worked beautifully. In the market hub for it does not show the / at the end of the fictious name. That threw me off.
ElizabethArt
POSTS: 43
Posted On:
when I list my urls, it and click save it says they are invalid. I have double checked them. Am I missing something?
Great post! I just set mine up with no problems
.
SilverlightJewellery
POSTS: 1
Posted On:
Hi, ElizabethArt. I had the same problem a moment ago. Did you remember to put the 'http://' at the beginning of the URLs? That solved the problem for me.

strawberryfields
POSTS: 148
Posted On:
Hi,
I'm trying to install programs provided by Google but there's no place to paste the codes google is giving me to link my artfire account to my google account.  Can you provide a link to google within the section you provide links to Etsy and Facebook?
Please help.   Thank you.
Kathleen
YuliaKazansky
POSTS: 30
Posted On:
I posted in MarketHub my website, blog and Etsy, it says that it saved, but nothing appears on my shop page.
YuliaKazansky
POSTS: 30
Posted On:
Wow! Nobody knows the answer! And my markethub is still not functioning. :(
UknowUneedAnother
POSTS: 231
Posted On:
I just came from my markethub page. Is there anyway to add sites that do NOT have "official" icon labeled boxes?

I also have accounts with Bonanza and eCrater and would like to add them. I think that I currently have my .com pointing to eCrater, so I could add one of the 2 aforementioned into the first slot.

I also have memberships within a few of the NING sites, which do turn up within Google and can find no way to incorporate them either.

Any suggestions?