ArtFire Help Center
Facebook Guide: Promoting Your ArtFire Studio
Posted On: 04/06/2011
Last Updated: 08/30/2011
---
Social networking profiles such as Facebook can be very useful in promoting your ArtFire Studio. Although Facebook was originally intended only for college students, now people of all ages can get involved in the community. With so many functions and features, the possibilities for promoting one's studio on this site are near endless.

Getting Started

The first thing you need to do is to set up an account. Sign up is completely free and only takes a few minutes. It is important that you sign up using your name rather than your studio name. Facebook doesn't want a lot of businesses to sign up, so they often shut down new accounts if they appear to be businesses rather than people. However, if you sign up using your name and talk about your studio, that is allowed. If you're only interested in creating a Fan page for your business, you will still need to sign up for a profile first. For more information on creating a fan page, please check out our Facebook Kiosk Guide.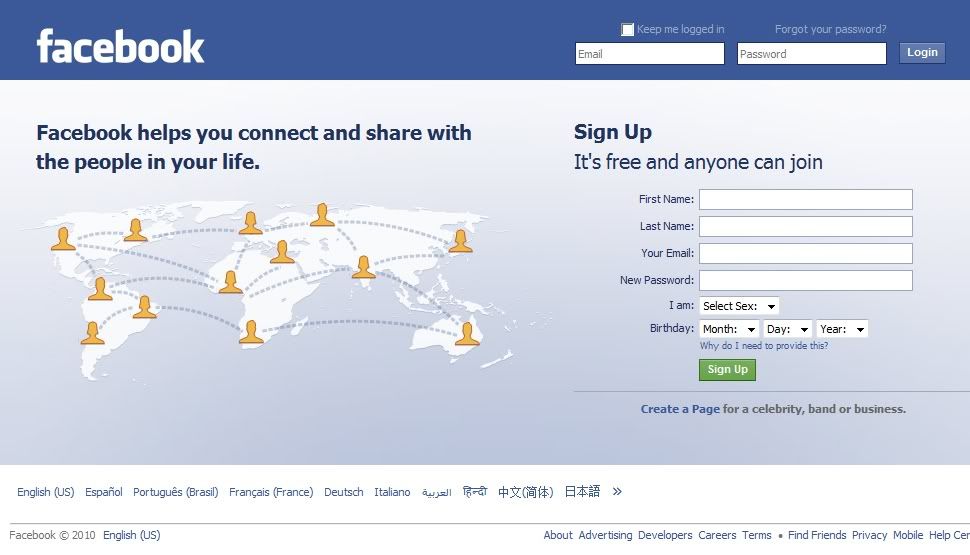 Customizing Your Profile

Many people who use Facebook have profiles that reflect their personality. However, if you plan to promote your business with Facebook, it is important that your profile reflect your studio. In other words, try to avoid offering too much information (i.e. inappropriate photos, messages or comments). While you want to appear friendly, you don't want to scare away potential shoppers. Make sure your profile is professional and fits with your studio. Also, remember to post your Facebook Kiosk or studio URL somewhere in your profile so people have easy access to it.

You will also want your profile to be personal. After all, people will want to know about you as the artist behind your studio. Be sure to upload pictures of yourself, and possibly family and friends. Fill out all the interests, music, movies, and activities sections to fit your style. This gives people browsing your profile the chance to get to know you. If they feel as though they share interests or tastes with you, they will be more likely to visit your ArtFire studio.

Friends

One of the first things you'll see when you log into your Facebook account is your news feed. If you have not added any friends to your account, this feed will be empty. However, once you start adding friends on Facebook or fanning pages this feed will fill up. This feed includes all updates, changes, comments, or announcements made by everyone on your friend's list. The best part about this news feed is that every update, change, comment, or announcement you make on Facebook will appear on all of your friends' news feeds. This means that if you update often, the first thing all your friends will see upon logging in will be information about your studio. However, keep in mind that Facebook isn't Twitter, and you don't want to fill up other members' feeds with your updates.

If you think you might not know anyone on Facebook, try importing your address book from your email account. You mind be surprised at how many people you know are on Facebook!

You can also add people from your instant messaging contact list. And if you're still having trouble finding friends, try searching for people based on name, email, university, or company.

Remember, the more friends you have, the more people will see your updates. Make sure your profile is set to public so that new visitors can easily view your information and links.

Interacting in the Community

Did you know that ArtFire has a fan page on Facebook? Becoming a fan of ArtFire's Facebook page is a great way to meet fellow artisans and get involved in the community. You can find this page by doing a search for ArtFire.com on Facebook or copying this URL: http://www.facebook.com/artfire.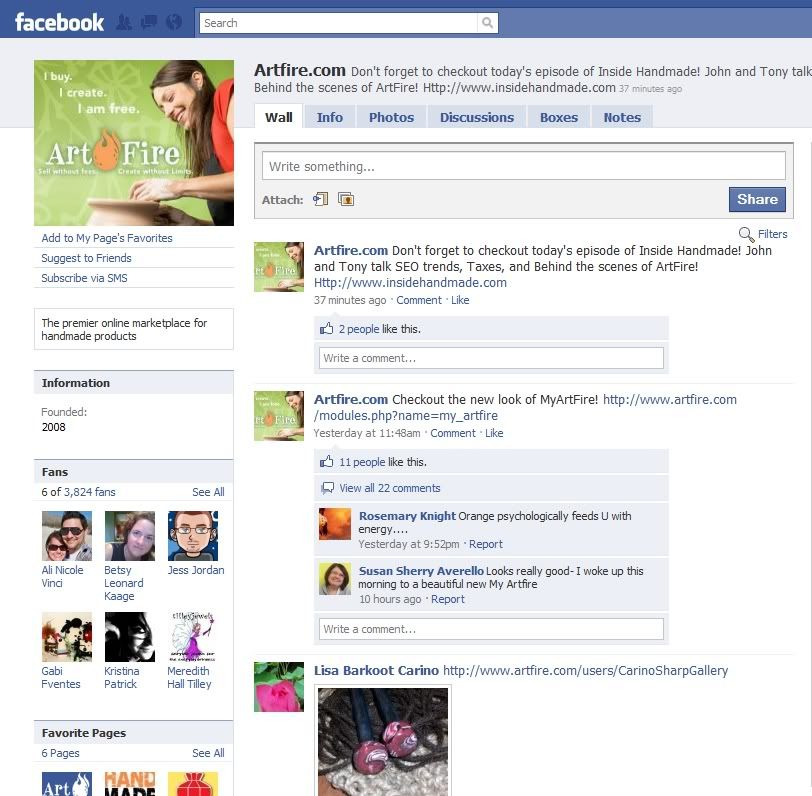 Facebook also offers many interactive and group activities for its members which can be extremely helpful in promoting your business. All users can join groups or become fans of different hobbies, people, companies, and activities. To find these features, use the search tool at the top of the page and search for keywords like "handmade," "ArtFire," or "eco-friendly" to see what pops up!


By joining groups or becoming a fan of different pages, you can meet new people and even post links back to your ArtFire studio. Viewing members of a group is a great way to find friends who share you interests and are likely to buy from you. The groups you have joined will be listed on your profile too, so that visitors will know your interests. It will also show up in the news feed of all your friends on Facebook.

Facebook allows members to leave comments on photos, status updates, and directly on your profile (or "wall"). Be sure to check your Facebook profile regularly to answer any questions posted about your business. Also make sure you add a link to your profile or fan page on your Market Hub.
Facebook allows users to post notes on their profile. These notes are really more like blog updates, and can be used to discuss sales, new products, and most importantly, to tell your personal story. Discuss your love of art and what you do in your notes. When you post a new note, it will show up on your friends' news feeds and bring more traffic to your profile.


In addition, you can reference your friends in your note. This allows your note to show up not only on all your friends' news feeds, but also on all the referenced friend's news feeds.

Sharing Items on Facebook

A great way to promote and link to your studio on Facebook is to use the "Share on Facebook" feature on ArtFire. This option is available on any listing page below the artisan's avatar and bio. This allows users to link to any item on the site to their Facebook.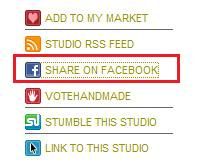 When you select to post a listing to Facebook, the listing will appear with its main image and its description on the news feed of all your Facebook friends. This tool works great for when you've just listed a new product and wish to share it with the Facebook community.
Status Updates

Another tool on Facebook is status updates. Every user on Facebook has the option to post a short message to the community about what they're up too. These messages appear on your profile as well as the news feed of all of your Facebook friends.
These status updates can be used to link to your studio or favorite items. Like Twitter, you'll need to think of something witty or fun to catch the reader's attention. Try posting a question or a funny statement to get people interested.
You can also use your status updates to talk about a new product you're working on. That way when you complete a new project, you can upload photos (which will also appear on your friend's well feed) and ask for feedback from the community.

What Else Can I Do with Facebook?

Some users who want to take promoting on Facebook to the next level choose to buy targeted advertisements on Facebook. Since Facebook ads are charged on a Pay Per Click basis (meaning you only get charged if people click the link and come to your studio) and are often targeted to the audience of your choice, you get a lot of visibility for not very much money. However, this kind of promotion isn't for everyone, and it's up to you to decide if it's best for your business or not.