ArtFire Help Center
SMO Guide to YouTube
Posted On: 04/06/2011
Last Updated: 04/07/2011
---
YouTube is the number one place users go for videos on the web, and posting your videos there is a great way to bring in shoppers to your studio.
If you've never made a video before, don't worry. It doesn't take much poking around on YouTube to know that most of the members there are not video pros, so you don't need to have in-depth knowledge of filming to post your videos and get positive feedback.

You do need to post videos with good content and decent video techniques, both of which this guide is designed to help you with. So grab a video camera (make sure it's one that can easily transfer videos onto a computer) and let's get started!
Getting Ideas
Don't think you have anything to make a film about? Think again! As an artisan, you have lots of different ideas you can use to make a few films. One of the best ideas to promote your shop is to tell your story. Everyone has a different story to tell about how they came to o create art and how their talent is unique from all other sellers. What is that makes your work special? Where do you receive your inspiration? If you don't like talking about yourself, try having a friend narrate and tell your story in third person. You've heard of "Behind the Music," why not produce "Behind the Art"?

You can show off your studio. Give viewers a tour of your workspace, your gallery, or your favorite pieces. Offer a kind of "this is how I do what I do" perspective to the piece. You could even offer basic tips and techniques you use in your work. If you're a painter, show viewers how to select the right brush. Try taking it one step further and teach users how to paint a basic shape with shading. Make videos to teach people who have never done a particular craft how to start. These kinds of videos can be extremely popular if produced with even basic equipment and know-how.
If you like the idea of how-to videos, you might consider making guides to help viewers save money on different materials. Make videos on up-cycling, recycling, and getting the most out of your supplies.

There are lots of ideas for videos you can make. Be creative, and have fun. And of course, remember to include a link to your shop at the end of your video.

Basic Shooting Tips
Now that you have an idea for your first video, it's time to start shooting. While good content is the most important thing for your videos, you'll also want to follow some basic filming techniques to make your videos stand out. Listed below are a few simple tips that will give your films a professional shine:

-Make Sure Your Use a lot of Lighting when Shooting. It is better to be drowning in light than to have viewers struggle to make out what you're doing. Unless you are shooting the sun or have an incredibly bright set of commercial lights, your camera will adjust.

-Use A Tripod When You Shoot. No matter how steady you think you're holding the camera, a tripod is the only way to get 100% stable shooting. If you don't have a tripod, try setting the camera down on a solid surface to shoot.

-Remember Sound Quality. Try to film someplace quiet where exterior noise will not be picked up in your video. Be sure to check the volume to make sure viewers will be able to hear the speaker without having their eardrums blown off.
-Be Careful with the Zoom Function. Make sure you're zoomed in enough to see what the speaker is doing, but don't zoom in so close that you can see the speaker's pores.
-Never Use Zoom in the Middle of a Shot. Using zoom right in the middle of a scene can be disorienting and makes some viewers motion sick. Try to avoid it if possible.
-When Zooming In, Do So Slowly. Fast zooms can confuse viewers, so if you do zoom in, do so slowly. If it seems as though you're zooming in too slowly while filming, it's probably just right.
-Film from Multiple Angles. Users can get bored if they have to watch an entire video shot from one angle. Try instead to film from multiple angles and perspectives. This doesn't mean you need to have multiple cameras; all you need to do is stop the camera at the end of a scene and begin the other from a different perspective.

-Engage Your Viewers. When filming, make sure the speaker is talking and looking at the camera as though it was a person.


Editing
Editing software can be quite pricey, but it often makes all the difference in an online video. Luckily, both Windows and Macintosh computers now come with some free editing software built in. On Windows, you'll find Windows Movie Maker, while on Macintosh computers, you'll find iMovie. Both of these programs are fairly easy to use and allow you to add music, titles, cut scenes, and insert still images into your video.

Regardless of what editing program you use, there are a few basic editing guidelines to keep in mind while working with your video:
- Avoid Flashy Cut Scenes. Most editing software comes with fun features to cut between scenes of a film. This includes star wipes, explosion wipes, and heart wipes. Avoid using these as much as possible, as they tend to look cheesy and downplay the quality of your video. Instead, stick to simple wipes and fading in or out.

-Be Careful When Adding Music. Music can help add excitement to a video, but make sure any music you add goes with the piece. Also consider the volume of the music you put in. Music added to your film should sound like a radio in the other room, you can hear the lyrics but you can still hear the speaker.
Promoting on You Tube
Once you've finished filming and editing your film, it's time to upload it to YouTube. If you don't already have a YouTube account, please take a minute to sign up. It's fast, free, and anyone can do it!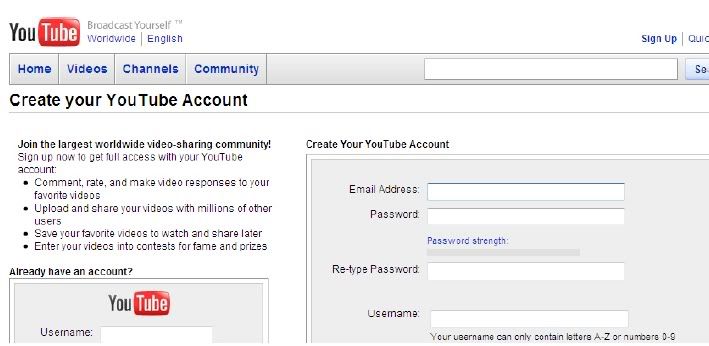 When you sign up, your channel will be instantly created as www.youtube.com/yourusername. This is where other members will find all your uploaded videos. Of course, if you're just setting up your account, you wouldn't have any videos on your channel.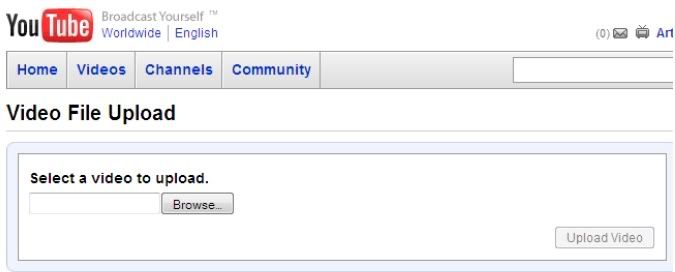 To upload videos, click your username at the top of the search. Select "My Videos" from the drop down menu. This will redirect you to your "Uploaded Videos" page. Hit "Video" from the "New" drop down menu to bring up the upload screen.
Take a moment to enter in all the necessary information in as much detail as possible. Be sure to proofread your description and include a link to your ArtFire studio. Enter in useful tags that describe the piece that will be helpful for users browsing the site. Also make sure you add your video in a good category. There aren't many to choose from, but try to find one that fits with your video (consider "How-to and Style" or "Entertainment"). Although categories are not required, they help your video get attention from the community.

Profile Customization
If you poke around on other user's profiles, you'll notice that many of them seem unique and colorful compared to your newly created profile. That's because these members have used YouTube's built in design features to customize their profile. To help add some color and spice to your profile, just click the "My Account" followed by the "Edit Channel" link on the right hand side of the screen. On the side bar, select Channel Design.
On this page you can change the color and layout of your YouTube Channel. Try uploading an image for your background (maybe a showcase of your items) or laying out your page in an unusual way. You want your channel to stand out from others in the community and reflect your uniqueness.
Playlists
You can make playlists of your own work (arranged by theme or art type), other users' work, or a combination of both. For example, if you make a film about beading, you might consider putting together a playlist of your video along with other beading videos. This way users can easily find related content and will be likely to subscribe to your playlist, share your playlist, and visit your YouTube channel often.

To add one of your videos to a playlist, simply select clips from your My Videos section of your account. To add videos from other users, just add your selected films to your Favorites and then add them to your playlist as you would your own videos.
Interaction
Most people are surprised at how many social networking tools YouTube has to offer. Users can add other members as friends, send personal messages, post bulletins, and comment on each other's videos. Try to use as many if these tools as possible. Get involved in the community and meet new people, who knows, some of them might be potential buyers! You can also use these tools to help support and drive traffic among fellow crafters and artisans. ArtFire Guild members should interlink and fellow artisans can use these tools to help each other grow.
Video Comments
One very handy way of getting your videos seen by the YouTube community is post video responses to other videos. You can do this if you have a related or relevant video which goes with another video you find on the site. You can pick a film from your previously uploaded videos, upload a new one, or even shoot a response on your webcam then and there.

However, if a bunch of other users have already left a video response, you might want to hold back. Usually the first few to reply get the most attention. Try instead leaving a response on a less popular video which is still relevant to your target audience.

Groups
A great way to be involved in the YouTube community is to join a group. Groups offer you access to users with similar interests, allow you to post your videos, engage in discussions, and hold contests. To browse all groups on YouTube, click the "Community" tab at the top of the page. Next click the "Groups" button at the top of the page to view all active groups. Most groups can be easily joined by clicking "Join this Group" at the top of the group page, while others will require an invitation or review by the group leader.

Being active in a group doesn't take up a lot of time, and it will help you gain attention in the community. Engage in group discussions, upload videos, and build up your network. Like all social media websites, the more friends you have, the larger your social footprint. You want to be known in the community so users can be aware of your brand and studio.
While there are a lot of active groups on YouTube, there are not many designed for artists and crafters. For that reason, you might want to consider forming a new group. To do so, simply go into your account and click "Groups." From here, click "Create a Group."
YouTube Streams
Live streams on YouTube are real-time chats while sharing videos. You can join or create a stream to interact with other members in the community. Try picking or creating a stream (maybe with other group members) which reflects your particular artistic hobby. Different members in the stream can share their videos and ask for feedback.

If you have a new how-to craft guide you'd like to share, you might consider starting up a new stream and inviting all your group members to join. This way you can answer any questions they have as they watch the video and give advice when needed.
Promoting Off YouTube
Many social media sites allow users to post YouTube videos to their profiles. You can share any video on your MySpace, Facebook, your ArtFire blog, or other social networking sites which allow you to enter html. This is a great way to add some flair to your social media sites as well as get your videos watched. And don't forget to promote your YouTube site on your Twitter account and studio homepage. This helps increase your social footprint and brand identity on the Internet.